Infertility caused by Blocked Fallopian
Cases of infertility are fast becoming major cause of concern for Health experts. Number of infertile couples is increasing day by day.  One in every five couple are childless in India . Census of 1981 estimates infertility in India around 4-6 percent and according to NFHS-1 childlessness is around 2.4 percent of currently married women over 40 years in India (cited in Jejeebhoy, 1998)
The fallopian tubes connect to the uterus at the utero-tubal junction where the fallopian tubes open into the uterine cavity. These very thin tubules are lined with cilia, which are fine hair-like cells. From there they extend out and slightly around toward the ovaries on both sides of female body.
Location and Types of Blockages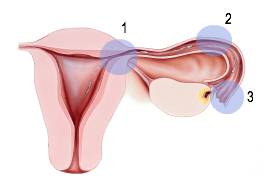 These are the three main locations for fallopian tube blockages.
1. Proximal 2. Mid segment 3. DistalThere are different types of fallopian tube blockages. Because the fallopian tubes have different parts and are a tube, there may be different parts of the tube blocked.  There are patterns of disease or trauma that may affect certain parts of the fallopian tubes more than others.Proximal tubal occlusion involves the isthmus. This can occur after infection such as complications from abortion, missed miscarriage, cesarean section or PID. Few Permanent birth  block the isthmus.Mid segment tubal obstruction of the ampullary is most often due to 
tubal ligation damage
..
Distal tubal occlusion
 is the type of blockage that affects the part of the fallopian tube end towards the ovary. This type of blockage is typically associated with hydrosalpinx. Hydrosalpinx is often caused by 
Chlamydia trachomatis
 infection, which is a sexually transmitted disease. Untreated Chlamydia is known to cause both pelvic and fallopian tube adhesions.In less severe cases only the fimbriae may be damaged. They may become stuck together in masses or may be damaged enough to no longer function as they should.  fimbriae have the important role of sweeping the oocyte (ova) into the fallopian tube for fertilization. If they no longer function then the oocyte never makes it to its destination for fertilization.
Common conditions that may cause blocked fallopian tubes are
Endometriosis

Pelvic Inflammatory Disease (PID)

Uterine Fibroids

Ectopic pregnancy

Tubal Ligation Removal

Complications from lower abdominal surgery such as Cesarean section

Genital Tuberculosis ( common in India)
Endometriosis and Fibroid tumors are both conditions which are becoming present in more women every year. Pelvic inflammatory disease is another common condition which women suffer from. Pelvic inflammatory disease or PID, is an umbrella term for a number of different problems that create an inflammatory infection in the female reproductive system. PID is almost always the direct result of a sexually transmitted disease, such as gonorrhea or Chlamydia.Genital T.B is one of most prevalent reason for Blocked fallopian tubes in India .
All of these conditions can cause blockage to the fallopian tubes by having adhesions, scar tissue, tumors or polyps form inside the path of the tube. The fallopian tubes may also become stuck to other parts of the internal body; the bladder, ovaries, uterus, bowels, etc. Damaged fallopian tubes can become twisted or the walls of the tubes themselves may adhere together causing a total blockage.
Partially damaged fallopian tubes may remain open enough for pregnancy to occur, but a partial blockage increases the risk for ectopic pregnancy. The fallopian tubes are very thin to begin with, it does not take much for them to become blocked, preventing the ova from traveling through. Studies have shown that low progesterone levels, smoking and use of fertility medications may alter how the fallopian tubes function, which increases risk for ectopic pregnancy. Any of the conditions above may cause a partial tubal blockage as well, which also increases risk for ectopic pregnancy.
Diagnosing Blocked Fallopian Tubes
Hysterosalpingogram (HSG)

Chromotubation

Sonohysterography
 Medical Procedures to Open Blocked Fallopian Tubes
Thousands of women are diagnosed with blocked fallopian tubes. Once they are damaged it may be difficult to reverse that damage. They are very delicate. Any sort of trauma can alter their function and damage the tubal tissues. There  are a variety of medical / surgical options for reopening the fallopian tubes. But most of times it does not work
 Risks for Fallopian Tube Surgery and Procedures
Regrowth of scar tissue and adhesion. Any kind of surgery runs the risk of these types of formations. The tubes may become blocked again or adhered to the abdominal wall, other parts of the reproductive organs, or other organs in the surrounding location, for example the bladder. Scar tissue may also form on other parts of the abdominal cavity, including the reproductive organs due to the surgical procedure.

Opening the abdomen runs the risk of pelvic infection.

Ectopic pregnancy.